Final Rider Information
The Final Rider Briefing can be found here (from April 24). Please take the time to read it before the event as it contains important pre-event information.
We also have our Dirty Reiver Handbook here (available Jan 24). Full of tips and insights from brands about the world of gravel.
The 2023 course gpx files:
Available via Komoot here  –
Please note that some mapping software tries to re-plot to 'known' trails. This can alter the route! Riders should check the gpx file they use against the original course.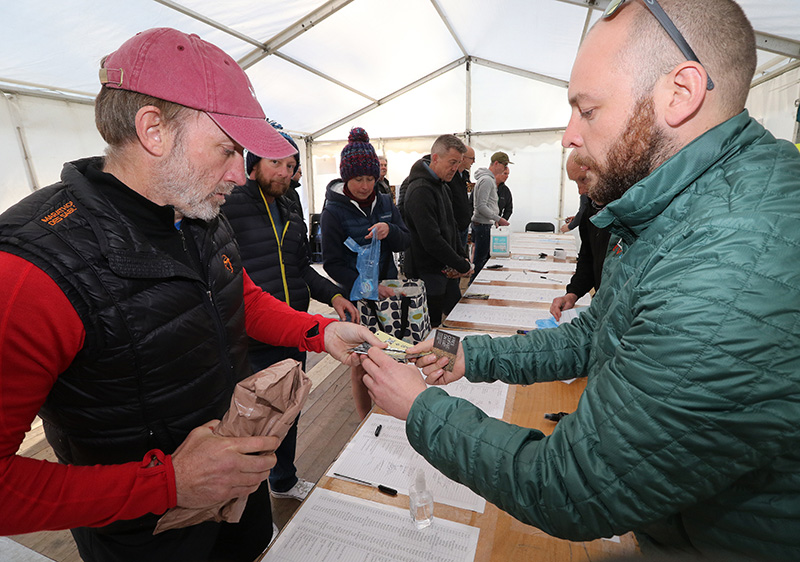 Ride Summary
All three event distances are on well surfaced hard packed gravel access roads.
The 200km event is one continuous loop with three feed stations at 52km, 103km and 154km approx. There is 3100m of ascent with cut-offs at 34km and 136km – more info in the relevant section.
The 130km event follows a similar route to the 200km with 2100m of ascent, feeds at 52km and 103km and a cut-off at 34km.
The 65km event has 1000m of ascent with a feed at 48km.
All routes may be subject to change depending on weather and timber harvesting.
The course is suitable for any off-road bike with 33c or larger tyres – preferable with an off-road tread. Whilst the course is designed to favour gravel bikes but a hardtail MTB or similar will be fine.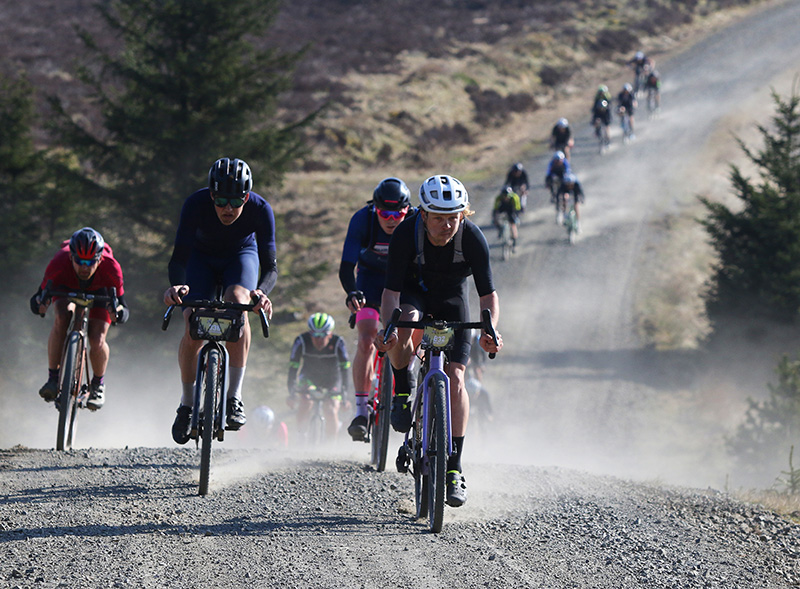 Entries
Entry for the 200km is £75 (plus card fee)
Entry for the 130km distances is £75 (plus card fee)
Entry for the 65km distance is £65 (plus card fee)
Entry includes:
Limited Edition Event Sponsor products – please collect from expo stalls
Hot food and drink at finish. Vegetarian and Gluten free options available
Fully waymarked course
Professional event timing
GPX route, available 2 weeks in advance
OTE supported feed stations
Full medical team back up
Car Parking for the weekend (Friday 12:00 to Sunday 12:00)
In addition to the standard entry fee, riders can also access:
SRAM/Unior Technical support at the event village
Unior Neutral Mechanical support available on course
Unior Neutral Mechanical support available at feed stations
Panaracer 'on course' inner tube swap – old (punctured) for new
Bike wash (located on campsite)
Joes No Flats lube on course and at the start
Fully stocked bar for post event drinks
Please note for certain mechanical/technical services there may be a charge for parts/labour.
Any queries on entries please contact us via the contact form or [email protected]
Feed Stations
There will be 3 feed stations available along the course. Each feed station will aim to provide:
Water
Energy Drink
Some snack foods such as bananas, wrapped cake bars, hot drinks (feed 2) etc
The feed stations will also allow access to limited mechanical support.
The food provided by these feed stations should not be a riders only form of support and each rider should aim to carry enough food/spares to complete the full event.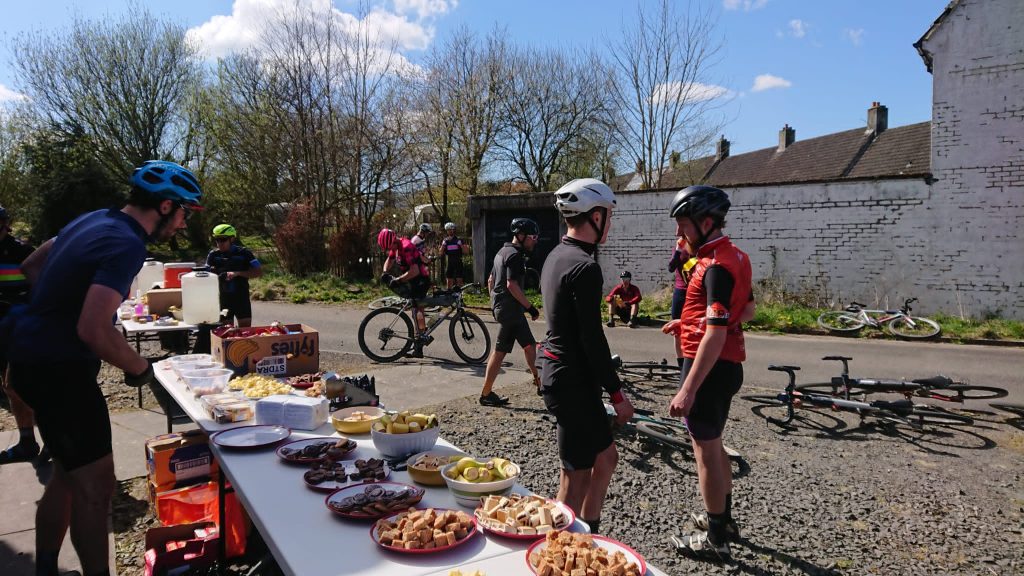 Drop Bags
A drop bag may be submitted for transfer to Feed 2 station (103km) for 130/200 distances. We recommend all riders use this to supplement the rest of their ride.
A bag will be provided at the sign on to be clearly marked with rider number.
Please do not include additional water bottles or fluids. The organisers accept no responsibility for return of these drop bags so please do not include anything you expect to have returned. Drop bags will be returned to the Event Centre after the event has finished.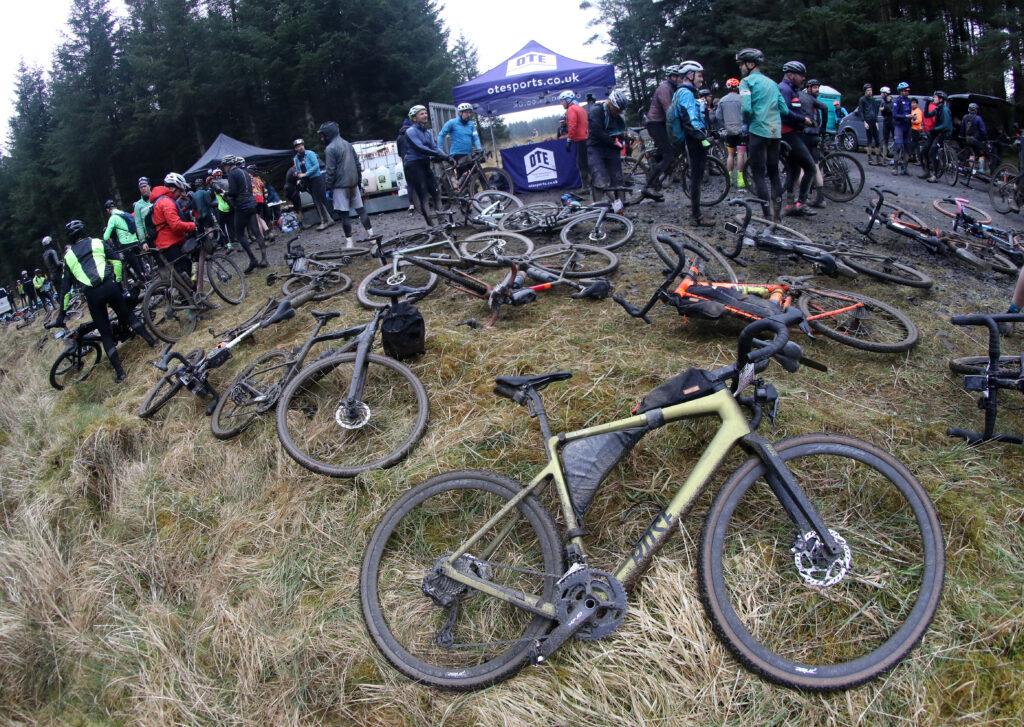 Timing/Cut-offs
The event, though non-competitive, will be timed and intermediate split times will be taken at points on the course (an important safety measure). There will be 2-3 Cut-off points on the 130/200km courses. Riders who do not make these cut-offs will be re-directed to a shorter route, this is for event safety.
Cut-off 1: 1030hrs at 34km (for 130/200km riders) after this all riders will be on the 65km route
Cut-off 2: 1615hrs at 137km (for 200km riders) who will return to the castle
Cut-off 3: this is an optional cut-off at 181km for any rider unlikely to make the course closure at 2130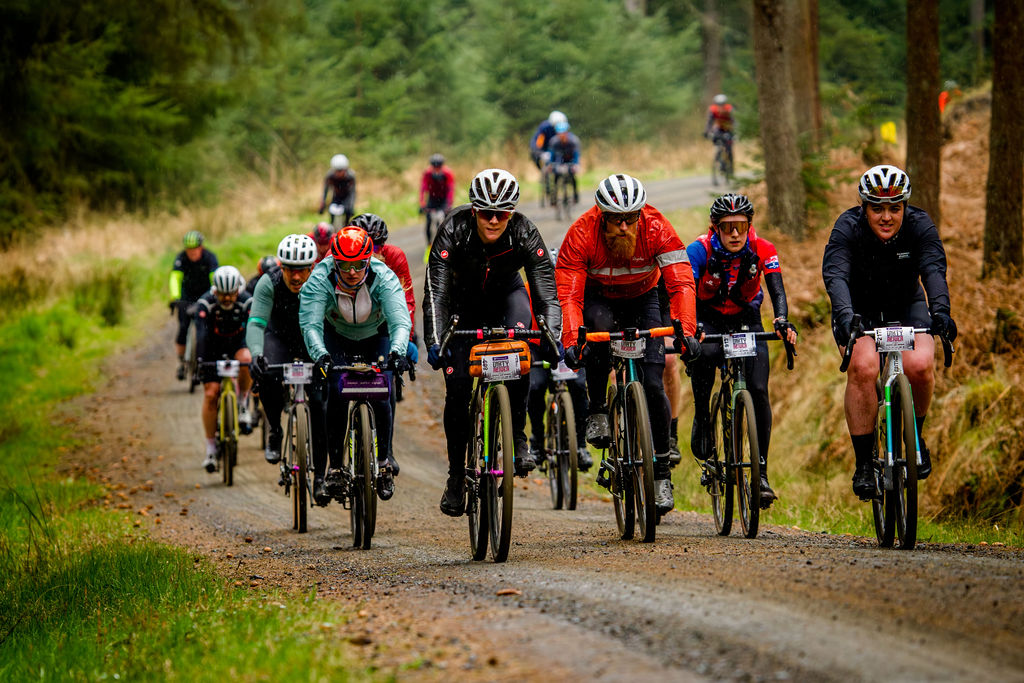 Rider Brief
The general rider briefing will be circulated to riders via email and newsletter in the weeks preceding the event and be available as a link on this site.
Final Rider Notifications will be clearly displayed at sign on.
Our Dirty Reiver Riders Handbook will be available to view from 28/02/2023 and contains details on preparing for your ride as well as information for the weekend.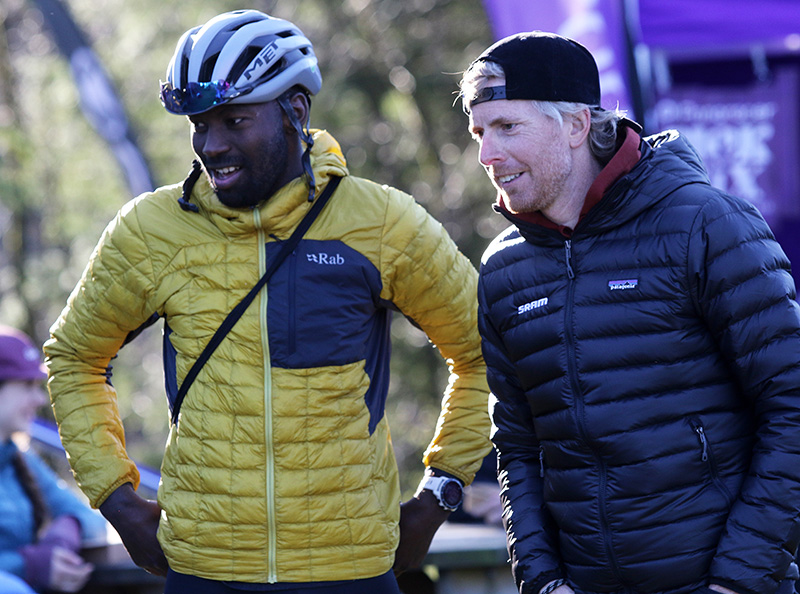 Finish Times
All riders will be provided their finishing time upon return to the event village. The Dirty Reiver 200 finishing times will be classified as follows:
Reivers – sub 7hrs
Highwayman – Finishing time less than 7 hours and 30 minutes
Outlaw – Finishing time less than 9 hours
Brigand – Finishing time over 9 hours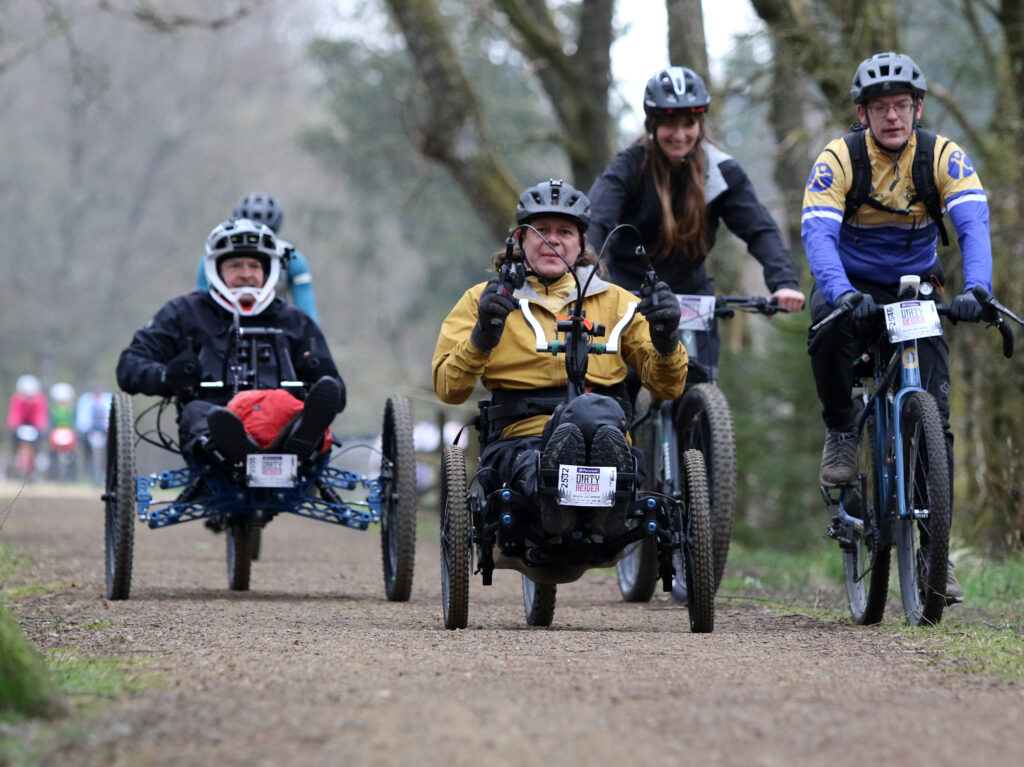 Required Kit
The required kit is applicable to all distances. All riders must carry these items at all times:
Emergency Whistle
Survival blanket
Waterproof jacket (unless you are wearing it – as a minimum taped or welded seams)
Spare warm hat or buff type head covering
Spare thermal top
Spare inner tube and tyre levers
Pump
Multitool
Front light, at least 200 lumens or suitable for navigation and riding in the dark with at least a 2hr burn time (not applicable to 65km distance)
Rear light with a flashing mode
Mobile phone
Food for the duration of the event
Ability to carry at least 1.5 litres of water
Carrying this minimal amount of kit helps to ensure that you can keep warm in the event of having to stop or have spare kit if the weather changes.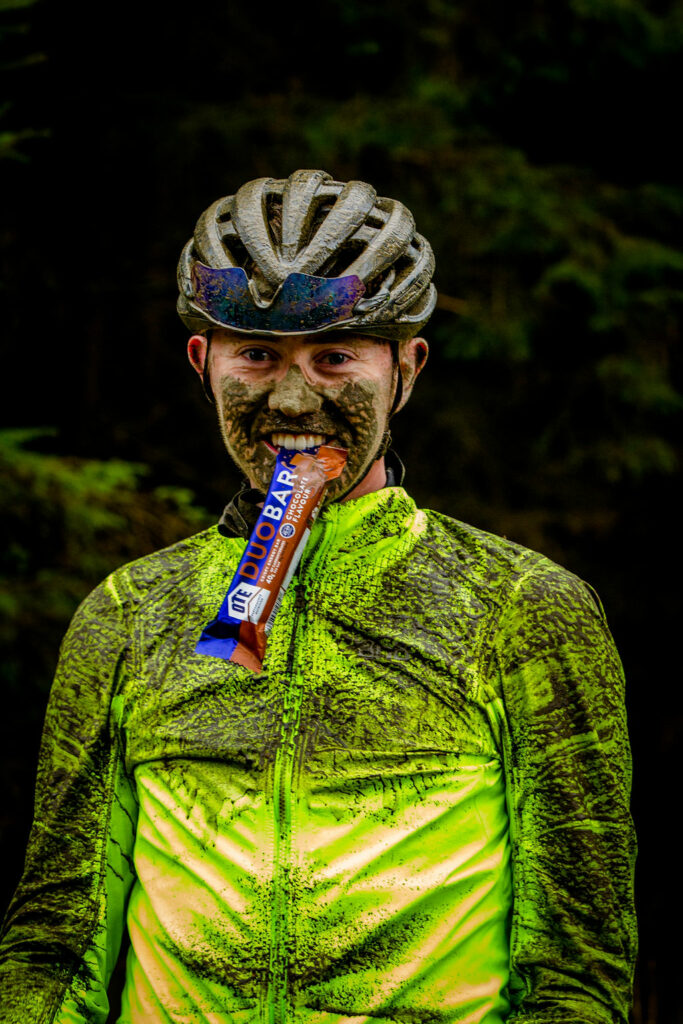 Recommended Kit
Bike with 33c or larger tyres. The course is designed to favour gravel bikes but any off-road capable bike in good working order can be used
GPS navigation and spare batteries if required
Spare disc pads
Chain link
Spare rear mech hange
Chain lubricatio
Basic first aid kit
Make sure that you carry essential spares and have the ability to undertake rudimentary repairs of your bike; parts of the route are remote.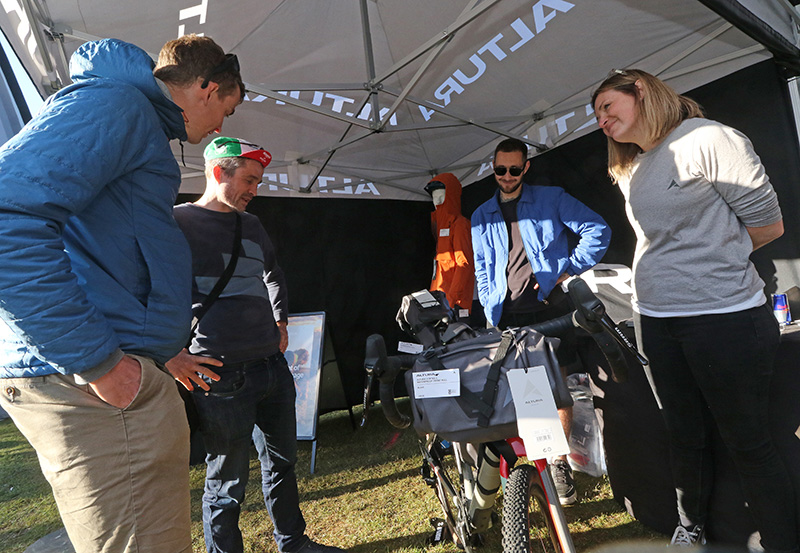 Provisional Programme
Friday 19th April 2024
10:00-21:00 – Gravel Expo. All supporting brands will be displaying their products and chatting gravel – please collect goody bags from them!
10:00-22:00 – Sign on opens
10:00-19:00 – Various brand and Ambassador activations – rides, talks etc
180:00-22:00 – Full catering and bar (Vegetarian and Gluten free options available)
22:00 – registration and event site closes
Saturday 20th April 2024
The rider briefing can be downloaded and viewed prior to arriving at the event. There will be no formal briefing other than a start line rider briefing to outline any changes
06:00-07:30 – Sign on open
07:45 – Rolling start for riders. Please note that the first 2km is on a quiet public road
(*Please refer to the course cut-offs when planning your start time)
21:30 -Finish line closes
**The organisers retain the right to amend the programme/timings should issues arise. Any change will be communicated to riders at the earliest opportunity.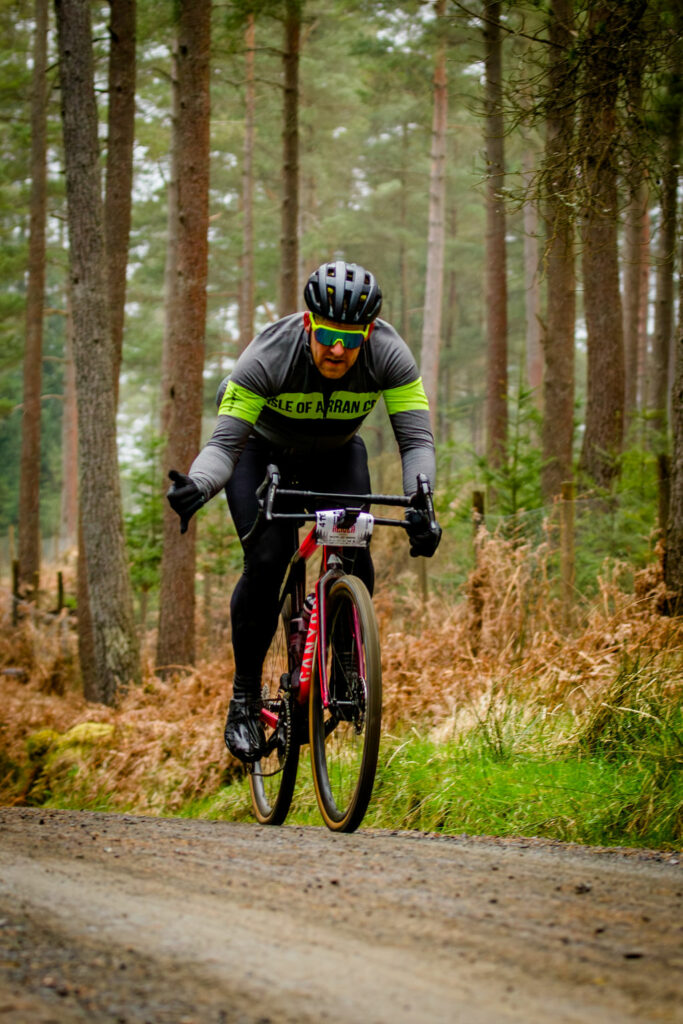 International Travellers
For those travelling from further afield the nearest airports are Newcastle (NCL) and Glasgow (GLA). Both are served by flights from most major cities.
Kielder is unique in its remoteness, as such there is no direct public transport. We recommend looking to share car hire with someone else making the trip – the Dirty Reiver Facebook page is a good place to start.
The nearest train service runs to Hexham (HEX) which is then a 35 mile pedal/drive to Kielder Castle. There may be options to book a taxi/hire a vehicle in Hexham. At this time we are not aware of any bus service operating the route.
National Cycle Network 10 runs through Kielder from the east at Bellingham and the west from Newcastleton.
Terms and Conditions
The Terms and Conditions detailed below apply to all entrants participating in the Dirty Reiver – all distances (see below for additional notes on the Dirt-E-Reiver).
Completion of an entry form or purchase of an entry by every participant acknowledges their acceptance of these Terms and Conditions by the participant.
Entries to The Dirty Reiver, Dirty One Thirty, Dirty Sixty Fiver and Dirt-E-Reiver are non transferrable.
REFUND RATES:
60+ days from the event – 70% refund
30-59 days from the event – 50% refund
0-29 days from the event – No refund possible
Focal Events recommend that participants take out individual insurance to cover being unable to attend due to unforeseen personal circumstances.
Riders are required to attend a start line briefing and read briefing notes and sign to confirm that they agree to abide by the instructions given.
All riders must be self-supported.The event organisers and staff are not responsible for your preparedness while riding the course.
You should ensure that both yourself and your bike are in a serviceable state to complete a 200 km gravel road ride. A standard road bike is NOT suitable for this event.
Each participant, upon signing the registration form, agrees that they are physically and mentally capable of riding the distance they have chosen. If, during the event, they decide to change their route and distance, then all consequences of this action are the participators. If the situation arises that you are in an accident and are not capable of making the decision to call the emergency services, the rider agrees that a member of the organisation or a member of the public/other rider may call for them.
At any time pre, during, and post event, riders must conduct themselves in a manner that does not discredit themselves or the event organisers. Riders must be considerate to other users of bridleways, tracks, byways and public ways when riding on and off road.
Riders are expected to respect the countryside that the event travels through. It should be remembered that this is both a working landscape and home to many communities. Riders stopping for a comfort break are asked to do so discretely and appropriately and not to cause any offence to local residents or other riders.
There may be sections of public road included within the course. You must obey all Highway Code rules.
The organisers reserve the right to postpone or cancel the event. This will be considered should access to the event or sufficient portions of the course be deemed too dangerous due to severe adverse weather conditions or due to any other scenario that makes the event not viable.
The participant accepts that the event they are entering is not a race in any format.
Riders entering the Dirty Reiver self select their category, at the point of entry. The event is non-competitive with no podium or prizes. Finishers will be displayed alphabetically by age category and the gender that they have chosen.
As this is not a race we are unable to check category selection but we do have a range of options to ensure that the event remains inclusive:
Male
Female
Open – for anyone who does not identify with the former
Riders whilst participating in the event must do so wearing a helmet complying with latest EN1078, ANSI Z90/4 or SNELL standards. Any rider not conforming with this term will not be allowed to start or will be removed from the event if started.
Riders must carry the minimum required equipment for the full duration of the course. Spot checks may be used to ensure rider safety.
The Event Registration Form must be completed by a person aged 18 years or over. This event is not open to riders under 16.
All riders are covered by third party insurance for the duration of the event. The cost of this is included in your entry fee. In addition, Focal Events are covered by public liability insurance.
Organisers cannot take responsibility for loss or damage of personal possessions during the event.
During the event there will be warning signs at appropriate points on the trails or roads used for this event. Absence of these signs does not signal there are no dangers approaching and it is the individual rider's responsibility to make a decision regarding whether to ride a section or not. The marking of the route does not necessarily indicate that the trail or road is rideable and the participant is deemed to make their own decision about whether to proceed on bike, foot or not at all.
Riders must not to drop or leave any litter on any part of the route and to dispose of it responsibly at an appropriate place or bin. Any rider found littering will be disqualified from the event.
Each participant will be fully responsible for any fees or costs incurred or arising from an accident either involving or caused by the rider. This includes, but is not exclusive to, fees from Police, Air Ambulance, Fire and Rescue and the Ambulance service.
Each participant hereby grants to Focal Events an exclusive, absolute and irrevocable worldwide assignment in perpetuity in the photographs/film/video/electronic representations and/or sound recordings of the participant obtained at the event and grants to Focal Events the right to use and publish such content in any and all media. The participant hereby releases Focal Events from any and all liability from such use and promotion. The participant hereby authorises the reproduction, sale, copyright, exhibit, broadcast, electronic storage and/or distribution of said photographs/film/video tapes/electronic representations and/or sound recordings without limitation at the discretion of Focal Events. The participant specifically waives any right to any compensation they may have for appearing in any of the photographs/film/video/electronic representations and/or sound recordings of the participant at a Focal Events event.
In the event that a participant fails to complete the course for any reason they agree to return to or call the event centre before the close of the event and report to a member of staff. Not doing so will mean that a search may be organised and the subsequent cost will be billed to the rider.
An acceptable charge for any loss or damage caused by a rider to timing equipment will be made.
E-Bikes must meet the current EAPC (electric assisted pedal cycle) requirements, as outlined on the government website, and must not be modified in anyway.
E-Bikes who do not meet these requirements will not be allowed to start.
E-Bike riders should note that this 65km course does not offer a recharge point on the course and they will not be allowed to ride the longer distances.
Riders could carry a spare battery if needed.
E-Bike riders should ensure that they have checked that their battery will last the distance and make sure that it is fully charged before travel to the event.